our product
Training
CWG Academy offers transformative courses to develop world-class IT professionals and entrepreneurs.
Start Learning
Everyday we create opportunities for professional development.
The CWG academy was built on the understanding that education and training lies at the heart of development efforts, and without human capacity development, most development interventions will be ineffective. Our programs are designed to transform graduates into world class IT professionals, or entrepreneurs. Preparing them to be part of the innovation world, and teaching them structure, and ethics.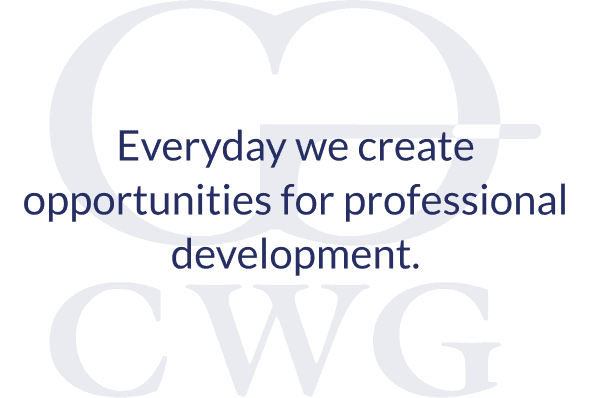 Belong at CWG Academy
At CWG, we recognize that fostering diversity within our teams is essential to driving innovation and ensuring inclusivity across our global community. We are committed to welcoming employees who come from diverse backgrounds, possess different perspectives and ideas, and identify with various cultures and identities.
We understand that each individual is unique, just like every listing we offer, and we strive to create a workplace culture that fosters a sense of belonging and empowers everyone to succeed.
"CWG Academy is top-notch! The instructors are fantastic, the curriculum is practical, and the emphasis on problem-solving is invaluable. Highly recommended for anyone looking to advance their tech skills and career."
Olajide Adebowale - Yaounde Cameroon
"Working at CWG is a blast! I get to code with the best, laugh a lot, and enjoy delicious food. It's an amazing workplace that values diversity and promotes inclusivity. I feel like I belong and can thrive here."
Jide Folarin - BOWEN University
Our Courses
Here are some of the courses available at our academy
Advanced Service Platforms Management
E-Commerce Platform
E-Billing and Payment Platform
3PI
CWG SMERP
Customer Service Management Suite
Sales Overview/Strategy and Processes
Project Management
ITIL (IT Infrastructure Library)
Enterprise Risk Management
IT Infrastructure & Cloud Platform
Dell/EMC Enterprise Solutions
Sun Oracle Systems
Automated Teller Machine (ATM) System
HP Systems
IBM
Virtualization Administration
End User Support
Cloud Computing
Point of Sales (POS Systems)
Data Centre Infrastructure Management
Data Centre Management
Administration Platform
IAAS/SAAS/PAAS
Network Managed Services
Microwave Radio Solution
Power Solutions (UPS and Inverters)
Routing and Switching
Oracle SQL Overview
JAVA Programming Overview
V.B Net Systems
Introduction to Microfinance Banking Application
Finacle Core Application
Finacle Treasury Overview
Finacle E-Banking Overview